Introducing the Fast Track Examination System for Trademarks
Sept. 9, 2020
As you may be aware, it usually takes about 11 to 14 months from the filing date of an application before the Japan Patent Office (JPO) issues either a first Office Action or a Notice of Allowance in a trademark application. However, one option for accelerating the examination of an application is to utilize the "Fast Track Examination" system first introduced by the JPO on a trial basis in October 2018 and modified in February 2020.
Fast track examination is automatically applied to an application in cases in which:

(1) the application only designates goods/services that are indicated in the JPO's Examination Guidelines for Similar Goods/Services, the Trademark Law Enforcement Regulations, or the international classification of goods and services (Nice Classification);

and

(2) the goods/services of the application have not been amended between the filing of the application and the actual start of the examination.
When an application meets these requirements, examination of the application will begin within approximately six months of the filing date.
If you would like to utilize this option, please do not hesitate to contact us.
For your reference, you will find lists of suitable descriptions of goods/services at the following URL:
<Goods/Service Name Search|J-PlatPat [JPP]>
https://www.j-platpat.inpit.go.jp/t1201

If, as shown below, you check "G Examination Guidelines for Similar Goods and Services" and "N International Classification Table of Goods and Services (Nice Classification)" and apply search keywords, you will find a list of applicable goods/services for Fast Track Examination.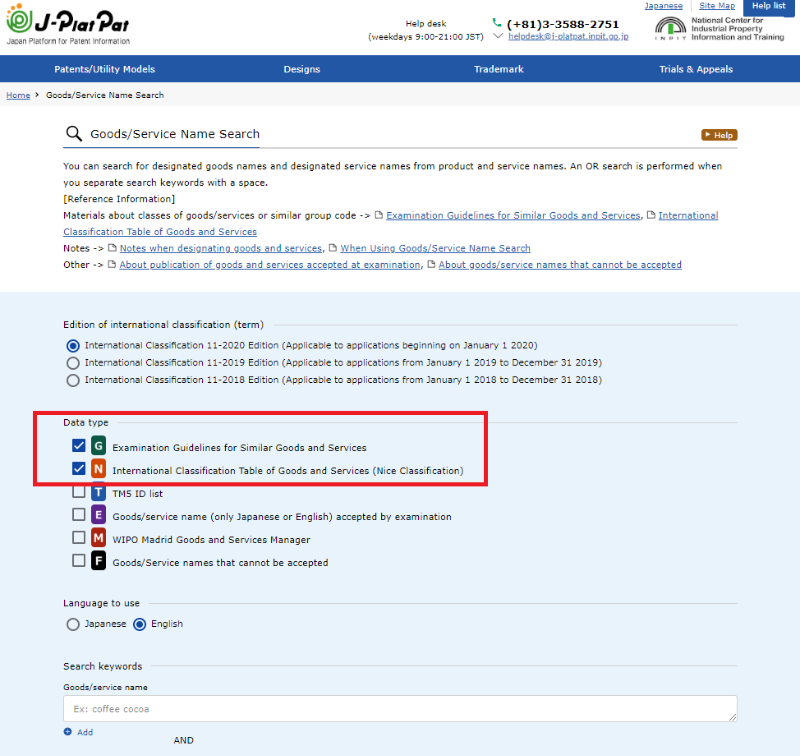 ---

Summary prepared by Keiko Hori, Design & Trademark Section
Please use the contact form below for inquiries of comments.